Just completed a Surface Pattern Design Class
Posted January 19, 2015
I just finished up a Surface Pattern Design Class with "The Art and Business of Surface Pattern Design." Very Inspirational!
I am scheduled to do Module 2 in April, 2015. In the meantime, I am doing another online pattern design course with Bonnie Christine. I have been involved in designing patterns for a while now, including designing several facial tissue boxes for Solaris Paper, Inc. and my paisley designs have been successful sellers, in which they were done completely on the computer in A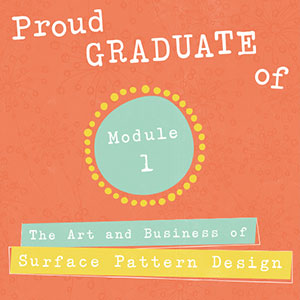 dobe Illustrator. Right now I am focusing on developing simple hand drawn icons that can be used to then create patterns on the computer. It is a bit different way of working, and has been great getting back into the basics of sketching. While working on these classes, I put together a pattern inspiration board that you can follow on Pinterest. The second and third portions of the class will be focusing on the business side regarding licensing, but for right now, I am enjoying playing with pattern and experimenting more for both jewelry and graphics projects.
» Share: