About Me

Janice Hagey – Designer • Artist • Maker
As a metalsmith with a background in graphic design, I create unique jewelry infusing pattern and typography into pieces that are hammered, forged and soldered, which blend into a fusion of modern and ancient aesthetic. In addition, being influenced by the natural world has not only led to emulating nature in many pieces, it has also formed the basis of my ecofriendly craftsmanship in which I use reclaimed precious metals for all of my work.
I have attended workshops at Revere Academy of Jewelry Arts in San Francisco and Mendocino Art Center in Northern California. In addition, I also studied metal arts at California State University, Fullerton and Pasadena City College. I hold a B.A. in Studio Art from California State University, Fullerton and a Diploma in Package Design from Humber College in Toronto, Canada.
2019 Galleries and Stores
• Mettamade, Hamilton, Canada
2012-2015 Galleries and Stores
• Orange County Creatives, Laguna Beach, California
• La Galeria Gitana, San Fernando, California
• Harriet's General, Culpeper, Virginia
• Mountain Nest Gallery, Black Mountain, North Carolina
• Galeria Boca Roja, Mallorca, Spain

Group Shows:
2015 Holiday RAWk Artist Showcase • Orange County, CA
2015 Chocolate and Art Show • Los Angeles, CA
2013 RAW Artist Showcase ENCOMPASS • Orange County, CA
2012 Revere@Manika • Manika Jewelry Gallery, San Francisco, California

Press Coverage:
One of my ring designs "Birds on a Wire" in Sterling and 14k, was featured in December 2011 issue of "BirdWatching" magazine.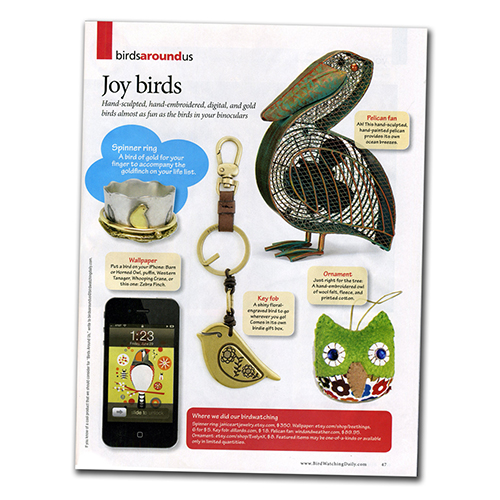 New Work:
In 2017, I moved back home to Canada, to be closer to my parents and help with hands on care as my dad became more ill. With his passing, I have been working toward new work which will combine patterns, enameling and set stones. As an evolving artist, I am thrilled to use the kiln as part of my skill set in this new work. I am just in preliminary stages, but you will be able to check out my blog page and Instagram feed for work in progress.